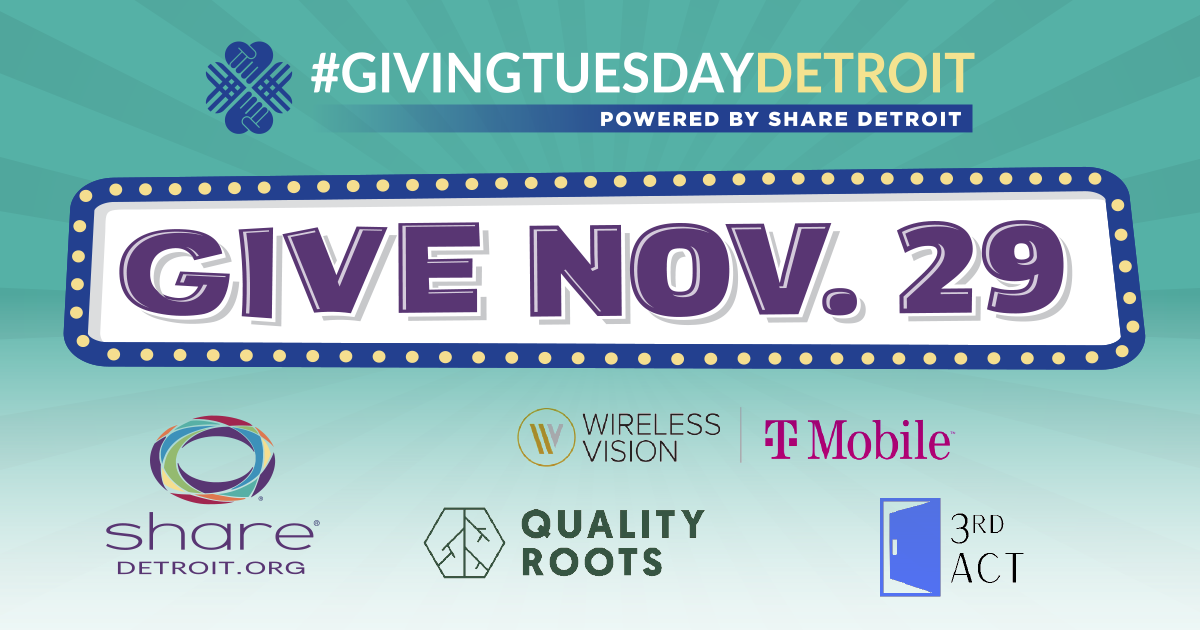 GIVING TUESDAY DETROIT - NONPROFIT INFORMATION
GIVE ON NOVEMBER 29th
CANVA TEMPLATES WORKBOOK FOR NONPROFITS SUBMIT FOR TICKETS
GIVING TUESDAY WEBINARLOGIN TO YOUR PROFILERESOURCES
SHARE Detroit will power the local response to the global Giving Tuesday campaign, always set for the Tuesday following Thanksgiving. For 2022, Giving Tuesday falls on November 29th.
To help you, our local nonprofits, stand out globally, SHARE Detroit powers:
#GivingTuesdayDetroit presented by Wireless Vision, Quality Roots, and We Are Third Act
SHARE Detroit and our sponsors want to help put more money in your nonprofit's pocket. Help us spread the word about Giving Tuesday, and you'll be entered to win money on Giving Tuesday, curtesy of our matching partners.
Earn tickets for your organization by doing the following:
Post an active link to ShareDetroit.org on your website (Use our member logos!)
Include SHARE Detroit and #GivingTuesdayDetroit in an eblast to your mailing list
Post about SHARE Detroit on your social media platforms (Use our ready-to-use graphics, or customize using our templates!)
Can be on any platform, at any time! If you post more than once and/or on different platforms, make sure to submit a ticket for each time!
It is important that we all use our LOCAL graphics, LOCAL Giving Tuesday logos, and area code hashtags to stand out to LOCAL donors on November 29th from national organizations. Please make sure to download the workbook in order to access all of the Giving Tuesday Detroit information and graphics.
RESOURCES
Please use the resources below to help spread the word about #GivingTuesdayDetroit.
Ready-to-Use Graphics Nonprofit Workbook Customizable Canva Graphics
#GivingTuesdayDetroit Logo - Gray Background #GivingTuesdayDetroit Logo - No Background #GivingTuesdayDetroit Logo - White Text
SHARE Detroit Member Badges #GivingTuesdayDetroit Informational Presentation Webinar