Stories
Some call it stories. Others call it a blog. But here you will find nuggets of goodness to use and -- you guessed it -- SHARE!
"To be afraid is to behave as if the truth were not true."
- Bayard Rustin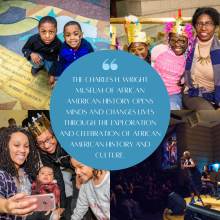 Since 1965, the Charles H. Wright Museum of African American History has been a source for education and inspiration for the City of Detroit.   Through permanent and traveling exhibitions, the goal of this treasured institution is to provide visitors with greater understanding, acceptance and unity by reflecting on the triumphs and tragedies of African-American history.