SHARE Detroit kicked off a summer of giving with our event at Jimmy John's Field on June11th. Nonprofit partners, sponsors, and community members came together to enjoy a BBQ meal and watch the Utica Unicorns prevail over the Birmingham Bloomfield Beavers from the stadium's patio.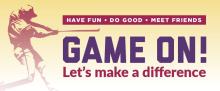 Help SHARE Detroit kick off their Summer SHARE campaign with a family evening of exciting baseball and delicious food – all for a great cause!
Join us for an evening of great baseball and community spirit for the whole  family at Jimmy John's Field, to raise money and awareness for our nonprofit partners. This summer, SHARE Detroit is stepping up to the plate to connect metro Detroiters with hundreds of great nonprofits that need your help.

With the idea in mind that "all Moms are glamorous," Shannon Lazovski founded
Glamorous Moms
as a fashion and beauty blog nearly 17 years ago.  Quickly, this platform became an influential source and full business for Shannon as she provided readers with inspiration on fashion, health and beauty advice. The goal in mind was to provide support to help Moms keep their self-worth and self-confidence strong.