Stories
Some call it stories. Others call it a blog. But here you will find nuggets of goodness to use and -- you guessed it -- SHARE!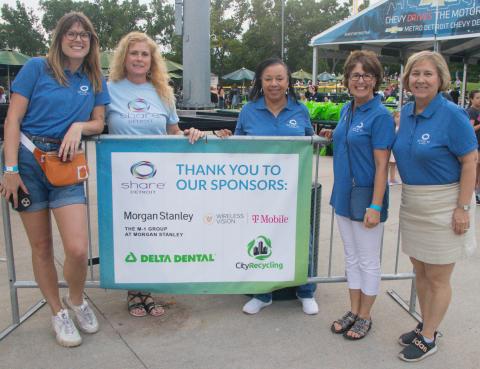 SHARE Detroit kicked off a summer of giving with our event at Jimmy John's Field on June11th. Nonprofit partners, sponsors, and community members came together to enjoy a BBQ meal and watch the Utica Unicorns prevail over the Birmingham Bloomfield Beavers from the stadium's patio. 

At the welcoming event, there were photo opportunities with the Unicorns' and Beavers' mascots, goodie bags were given out with swag supporting our nonprofit partners and sponsors, a new phone, Detroit Tigers tickets and a Detroit is the Place to BEE honey basket were raffled off to lucky community members. Guests were invited to write postcards to the children of Ukraine, as part of SHARE Detroit's ongoing SHARE Ukraine efforts. As we connected with one another at the event, we hope community members will continue to connect with nonprofits that speak to them throughout the rest of the summer and beyond!

We would like to extend a special thanks to our wonderful partners in this event, Aarolyn's House of Hope, Destined for Greatness, Detroit Hives, Kids on the Go, Lisa DeNardo - Pete Polk Memorial Foundation, and The Good Eggs Foundation.

We would also like to acknowledge the following participants: Autism Alliance of Michigan, Belle Isle Conservancy, CNS Healthcare, Detroit Chempreneurist, Detroit Riverfront Conservancy, Ennis Center, Faith Works, Friends for Animals of Metro Detroit, Glamorous Moms Foundation, Humane Society of Macomb, Kevin's Song, KnowResolve, Leadership Macomb, Leukemia Lymphoma Society of Michigan, Macomb County Habitat for Humanity, Michigan Council for Women in Technology (MCWT), NBS Animal Rescue, Samaritas, Seedlings Braille Books for Children, Siena Literacy Center, Single Family Living, Six Rivers Regional Land Conservancy, St Patrick Senior Center, The Cassie Hines Shoes Cancer, The Pink Fund, and Wish Upon a Teen.

Finally, this event would have been more difficult to host without our generous corporate sponsors. Special thanks to City Recycling, Delta Dental of Michigan, Morgan Stanley, and Wireless Vision, our T Mobile connection in metro Detroit for their generosity and strong support of Share Detroit and our 300+ nonprofit member organizations. Thanks to all who attended and supported us at our first community event! Remember, need doesn't get a vacation. Volunteer or give back this summer to a nonprofit that matters to you.  

About SHARE Detroit 
SHARE Detroit is a community initiative with opportunities to do good across the tri-county area. A robust online platform makes giving easy by connecting generous people to the greatest needs in the community. SHAREDetroit.org offers local nonprofits a chance to be seen and heard, regardless of cause or size and work together. Learn more at sharedetroit.org.