Stories
Some call it stories. Others call it a blog. But here you will find nuggets of goodness to use and -- you guessed it -- SHARE!
We do not have to love. We choose to love…When we understand love as the will to nurture our own and another's spiritual growth, it becomes clear that we cannot claim to love if we are hurtful and abusive. Love and abuse cannot coexist." - bell hooks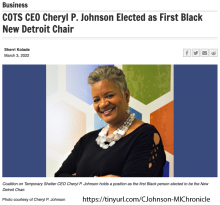 On International Women's Day, we would like to announce the election of Cheryl P. Johnson, CEO of COTS, as the current board chair of New Detroit, Inc. Ms. Johnson is an experienced non-profit leader and the first person of color, and Black woman, to lead in the racial equity organization's 55-year history.