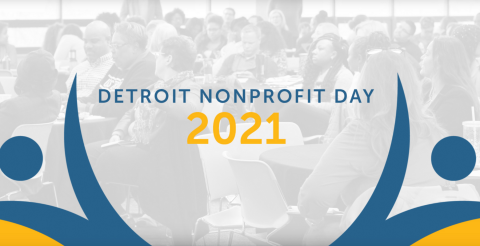 Detroit Nonprofit Day
Happening this weekend!
DETROIT
– Following a one-year pause,
Detroit Nonprofit Day (DND)
returns for 2021,
9 a.m. to 5 p.m., on Saturday, Oct. 30,
at the University of Detroit Mercy Center for Social Entrepreneurship (CSE). This one-day event is comprised of workshops, skills training, networking opportunities and a new pitch competition for Detroit's dynamic nonprofit and social enterprise organizations. Co.act Detroit, a hub that accelerates transformative impact with nonprofit and community organizations in southeast Michigan, is this year's Nonprofit Champion sponsor and will lead a workshop session.
Themed "Response, Resilience, Recovery," the day of learning and relationship building will focus on the toll COVID has taken on the nonprofit community, as well as exploring related challenges and their solutions to build a strong future for grassroots organizations.
"The pandemic has taken an unprecedented toll on our nonprofit community, with many organizations experiencing significant increases in demand for services and fewer and fewer resources to manage those demands effectively," said Monique Phillips, CEO of MP Consulting Group and DND Founder. "It's imperative that our leaders in the nonprofit sector have the tools and business skills they need to make their mission sustainable. This event brings together great minds to collectively strengthen our work."
The annual event is presented by MP Consulting Group, a nonprofit consulting firm, Bamboo Detroit, a shared workspace and small business incubator building inclusive community and support for business growth, and the University of Detroit Mercy's
Center for Social Entrepreneurship
which is part of UDM's College of Business Administration and a member of Share Detroit..
Attendees can expect to take a deep dive into their mission, fundraising strategies, operations and more. Leaders from IFF and the Dorothy A. Johnson Center for Philanthropy at Grand Valley State University are among those on tap to share their deep knowledge and facilitate sessions at the event.
The keynote speaker for DND will be September Hargrove, vice president and head of Detroit philanthropy at JP Morgan Chase. Hargrove is passionate about creating more access to economic opportunity and wealth for underserved communities, especially through entrepreneurship and small business.
"We expect our nonprofit leaders to leave the event feeling inspired and empowered. They will learn new tactics and tools to improve their operations and strengthen their leadership," said Amanda Lewan, co-founder and CEO of Bamboo Detroit. "We also want them to make serious and lasting connections with other nonprofit leaders, so they can help each other do this important work on the ground in Detroit at such a critical time."
For the first time ever, DND will include a nonprofit pitch competition and award on-the-spot grants to winner(s).
For more information on Detroit Nonprofit Day, or to register to attend, go to
DetroitNonprofitDay.com