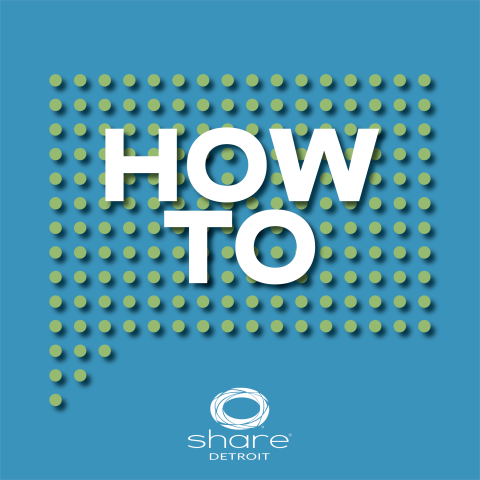 Detroit is a city with a deep cultural and artistic history. Many nonprofits in Metro Detroit seek to keep this history alive. Some provide outlets for individuals and communities to engage in creativity. Others advocate for the therapeutic benefits of art. With so many different arts and culture based nonprofits working in the community, SHARE Detroit is here to help you find one that aligns with your values!
To find arts and culture based nonprofits, you can start with SHARE's directory by clicking "Find Nonprofits" on the homepage or clicking "Donate" on the navigation bar. From there, you should use the sidebar to select "Arts & Culture" from the "What It Impacts" list.
Image
All of our search tags can be combined with others from the variety of categories in the sidebar. This allows you to narrow your search to specific causes you'd like to support! As stated, our nonprofit partners use art in a number of different ways. Some tags you could combine your "Arts & Culture" search with from the "Causes" category, for example, include "Black-Led/Black-Benefiting," "Developmental Disabilities," and "Youth Services." With these added tags, you can find a number of unique arts-based nonprofits!
But what if you have a specific type of art in mind that's not showing up in your initial search of arts and culture related nonprofits? Don't forget you can always use the search box on our navigation bar to look up terms like "dance" or "writing."
Image
When you search our whole website via the search box, you'll get all relevant results for nonprofits, events, and volunteer opportunities. You'll even see past blog posts, such as this one on Reading Month! If you want to search deeper into volunteer opportunities, events, and wish lists, you can access them via our homepage and navigation bar by clicking "Volunteer," "Attend Events," and "Shop For Good," respectively. When you access these directories, you can repeat the above search by selecting "Arts & Culture" from the "What It Impacts" category.
What's nice about our events and volunteer pages is that you're able to search by location and by time frame to find opportunities nearby that fit into your schedule!
Image
If you consider yourself a creative individual, you can also search volunteer opportunities using the "Desired Skill Set" category, which includes skills such as "Graphic Design and Creative Services," "Photography & Videography," and "Art." This way, you can not only volunteer with arts and culture related nonprofits, you can use your own artistic skills to help nonprofits with a variety of missions!
Image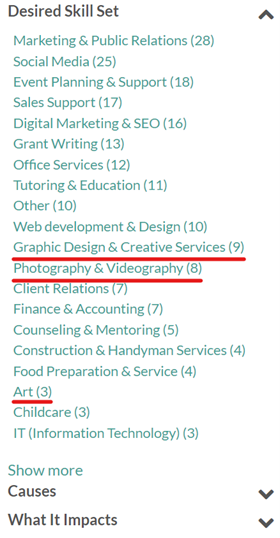 Finally, you can use our website to give to nonprofits directly by clicking "Shop For Good" on our homepage and navigation menu. When you choose "Arts & Culture" from the "What It Impacts" category on the sidebar, you'll get results for active wish lists for nonprofits in that category. From there, you can either click directly on the items that come up or click "Shop Our Wish List" to see a nonprofit's full wish list! You can also press "Donate" to make a direct monetary donation.
Image
And that's how to use SHARE Detroit's website to support arts and culture nonprofits in Metro Detroit! Happy giving!