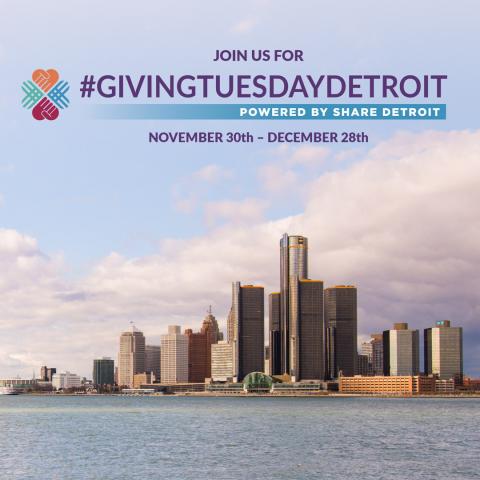 Do Good and Give this Holiday Season!
November 30
th
marks the beginning of the most important giving season of the year for nonprofits.
Giving Tuesday
is the day for communities across the country to give back and recognize the hard work and mission driven support nonprofits provide to local communities.
This year,
Share Detroit
has created a platform for the metro Detroit community to find a local nonprofit who resonates with their interests and values. More than 250 nonprofits are on Share Detroit, waiting to be discovered by you. Search and sort by cause and area of interest to find a few nonprofits who are doing important work. Click the Giving Tuesday banner above to find the nonprofits who are participating in our Giving Tuesday holiday drive. Make a donation to support them today.
And Giving Tuesday is just the start of giving season. Throughout December, Share Detroit will be giving away $3,000 each Tuesday to deserving nonprofits. Every Tuesday is Giving Tuesday in December! Won't you join us and give throughout this holiday season? We hope the community will match the more than $15,000 being giving by our corporate and community sponsors, including White Castle, Wireless Vision, We are 3
rd
Act and our anonymous donors.
Let's all give on November 30th and throughout December.
Our nonprofit community needs our support this year. Ring out 2021 in a generous and giving way. Please be sure to watch our 30 second video and find a few nonprofits whose work is meaningful to you on this website. We have included many of our recent news articles and TV links here for you too.
Our website also includes ways to volunteer or give from Amazon wish lists. Events will be back in 2022. Check out our platform and come back often in 2022. Nonprofits are added each week and you will be amazed at the great work being done!
Thank you for "doing good" today and in the future. Happy Holidays.
Check out our #GivingTuesdayDetroit promo videos here!
Read about SHARE Detroit in the press!