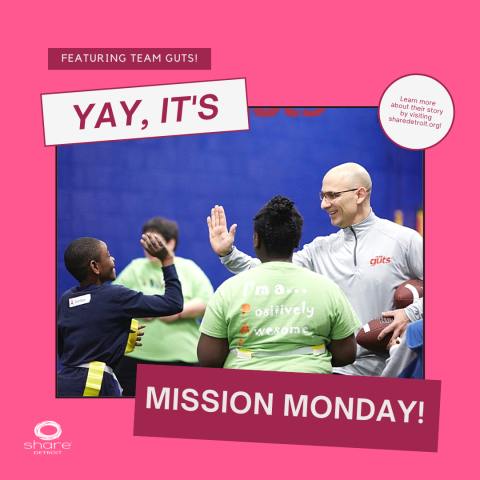 Welcome to this week's Mission Monday!
For many, summer is a time when kids participate on teams and in sports camps that offer a chance for recreation and socializing. Just like neurotypical children, children with special needs also benefit from physical activities that builds strength and confidence. However, designed for individuals with special needs are often overlooked by sports and recreation departments and consequently, hard for many to access. 
We are proud to introduce our SHARE Detroit community to Team GUTS, a valuable resource for children with special needs and families who seek structured physical activity for their children and the countless benefits associated with this activity. 
The inspiration for Team GUTS happened 12 years ago when Todd and Cheryl Turner welcomed into the world a beautiful baby girl named Amarissa. Amarissa was born with Downs Syndrome. In utero, doctors warned Todd and Cheryl that Amarissa would be born with clubfeet and possibly other birth defects. Amarissa came into the world with beautiful feet and a beautiful smile! Amarissa had open heart surgery to repair a hole in her heart. The surgery was successful but Amarissa regressed in her development, especially her speech. It wasn't long after that Amarissa was diagnosed with autism in addition to Downs Syndrome. Like so many parents of children with special needs, Todd and Cheryl were determined to provide their daughter with the healthiest and happiest life possible. A critical component of quality of life is physical fitness. Amarissa was the impetus behind Team GUTS, a nonprofit organization dedicated to improving the lives of the special needs population.
In conceiving and designing the Team GUTS fitness program, brothers Paul and Todd Turner collaborated with Professor Dale Ulrich, Director, Center on Physical Activity and Health in Pediatric Disabilities, at the University of Michigan, who has spent his career studying physical activity in different special needs populations, particularly children with autism and Downs Syndrome. Dr. Ulrich shared with the Turner's findings that underscored the importance of physical activity and fitness for kids who are already challenged enough. Team GUTS intends to help children with special needs improve their fitness levels and fine and gross motor skills. In turn, these clients will also be more prepared to improve their communication and daily living skills.
Programs through Team GUTS are available for anyone with special needs. Team GUTS provides year-round fitness classes, one-on-one training, athletic and sports programs to children, teenagers, and adults with special needs. No family is turned away as scholarships are available to families who qualify for financial assistance.  
Team GUTS regularly celebrates the success of individuals who participate in its programs.  Recently, they worked with a father who brings his son to their conditioning program. This young man was diagnosed with ASD, he on the spectrum for autism, is highly anxious and frequently stims. Stimming is a self-soothing mechanism characterized by the repetition of movements, words, or sounds. Since this boy has been involved with Team GUTS, his anxiety level has decreased, which means his stimming has also decreased. He is more focused at home and at school. He sleeps better and his overall disposition has improved.  Improvements like this are frequent for children who participate in Team GUTS programs and are just a fraction of the benefits of this organization. 
Looking to the future, the staff at Team GUTS plans to communicate a greater sense of urgency and opportunity with fitness programs for the special needs community. This population has unique challenges that come with attempting to stay physically fit, however the value of fitness and exercise are indispensable in order to improve a person's quality of life.
To support Team Guts and more than 190 other nonprofit organizations in metro Detroit, visit Share Detroit!