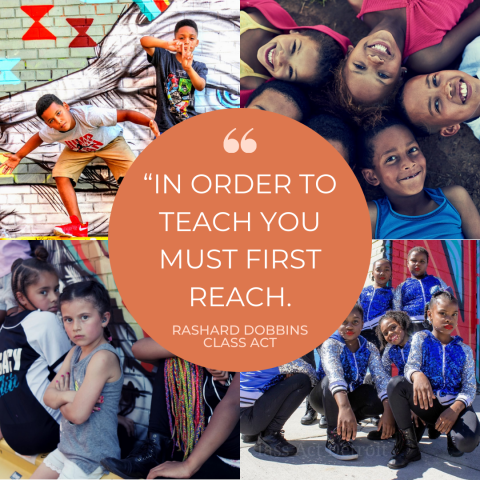 Class Act Detroit
Class Act Detroit
is truly a unique organization on our SHARE Detroit platform and within the Detroit nonprofit community. Our team is grateful to have them in our SHARE Detroit family and happy to share more about their special mission with our readers.
With most students settled into a new school year, many families seek extracurricular opportunities to support their child's interests and offer additional structure to their weekly calendar. Prior to 2017, if you were a resident of Detroit, have a child enrolled in DPS or a neighboring charter school, you likely found that most of the programs that inspire creativity for youth were only available outside the perimeter of the City of Detroit or in areas that were not geographically convenient for most to access. Additionally, many of these programs were expensive and hard to travel to, making them difficult for Detroit youth to participate in.
Thanks to Class Act Detroit and generous donations from sponsors such as The Kresge Foundation, United Way for Southeastern Michigan and The Skillman Foundation, since its inception in 2017, children in grades K-12 can participate in art education through mobile workshops that come to schools offering "hands-on experience to knowledge acquisition via project-based learning."
Programming at Class Act Detroit are focused on three areas: music, dance, and youth development. Exploration, empowerment, and agency are integral components of each program.
The music program is for scholars of all levels to become fully immersed in the world of music. Through these programs, students will acquire intermediate and fundamental components of music theory, beat-making, and modern sounds recording practices. As they advance, dedicated students increase their command of learning and communicating music, strengthen their grasp on technology and gain experience that translates outside of the music studio and into the real world.
Through Class Act Detroit's dance program students benefit from the social, emotional and artistic development that is associated with movement. They collaborate on projects with their fellow dancers and produce their own show from start to finish including the coordination of costumes, makeup, sponsors and music. Through these projects, dancers gain skills that are applied to art and learn to the value of self-control, action, space, timing and energy.
The Youth Development program offers a variety of opportunities for students to gain skills and experiences that prepare them to successfully transition from their classroom to adulthood. Through various activities, scholars are given the chance to explore potential careers and build their confidence by participating in projects and workshops to support this time of exploration.
You can keep up with the exciting endeavors and fun projects of Class Act Detroit on their
SHARE Detroit page
and their social media pages.