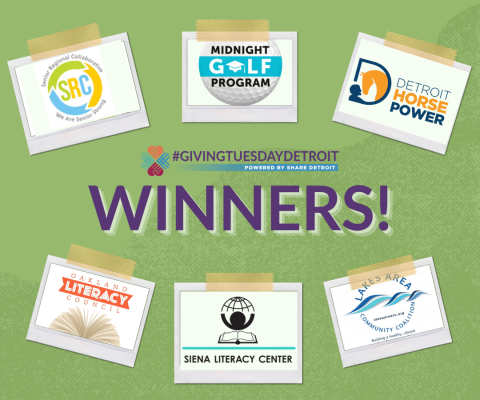 Thanks to our generous sponsors, White Castle, Third Act, Wireless Vision, our team at SHARE Detroit is happy to extend the spirit of Giving Tuesday throughout the month of December.
On November 30th, we happily awarded three $1,000 gifts. Siena Literacy Center, Lakes Area Community Coalition and Oakland Literacy Council. We survied the winners to learn about the impact of their $1,000 donation.
Siena Literacy Center shared they are heavily dependent upon volunteer tutors to work one to one with the adult learners that come through their doors. The $1,000 from SHARE Detroit will be used for professional development for staff and tutors, including resources, to address learning disabilities with our student population.
Lakes Area Community Coalition will use the $1,000 from SHARE Detroit to expand what they offer in therapeutic yoga workshops to staff and students in Walled Lake Schools. Through these workshops, participants build healthy coping skills and improve resilience.
Oakland Literacy Council can now provide 12 more adults access to the online learning programs for reading and match. These programs, used with their tutors and for self-study, are helping adults reach education, work, family, and citizenship goals faster.
On December 7th, three new $1,000 winners were announced. Detroit Horse Power, Midnight Golf Program, and Southeast Michigan Senior Regional Collaborative were our lucky winners! Once again, we reached out to the winners and were happy to hear how the $1,000 will benefit their mission.
Detroit Horse Power shared that support from SHARE Detroit and its partners will be used to cover meals and transportation for our after-school program where our Detroit students learn the PERCS (Perseverance, Empathy, Responsible risk-taking, Confidence and Self-control) from riding and taking care of horses. DHP meets on three weekday evenings per week on the Marygrove Conservancy campus focused on transferring the life lessons we learn from horses into our everyday lives, and 2-3 weekends per month at partner horse barns around the region. Covering these key program expenses is critical to ensuring these opportunities are free to our Detroit students who otherwise would have not have access to all that horses have to offer.
Midnight Golf directed funds raised through Giving Tuesday toward their Road Trip for Success College Tour. This is a week-long, out-of-state travel and learning experience for young people in the Midnight Golf Program. This annual trip occurs during Spring Break and is a once-in-a-lifetime for teens to:
Travel – For many students, this is their first trip outside of the state.
Tour college campuses and meet with school administrators
Play a round of golf at prestigious golf courses
Explorea variety of cultural and historical sites
Meet MGP alumni who are enrolled in college.
With 90% of their students coming from low-to-moderate income families, affordability is crucial to make this trip accessible and successful. The $1,000 gift will be directed to ensure the needs for this trip are met.
The Senior Regional Collaborative is using their dollars to assist with operational expenses that support their "I am Senior Strong" platform and caregiving workshops. This campaign celebrates seniors who serve the community with a goal of raising awareness of this powerful generation, while providing tools to manage and navigate the stress of caregiving for all that are involved.
Stay tuned for information on three more weeks of winners!