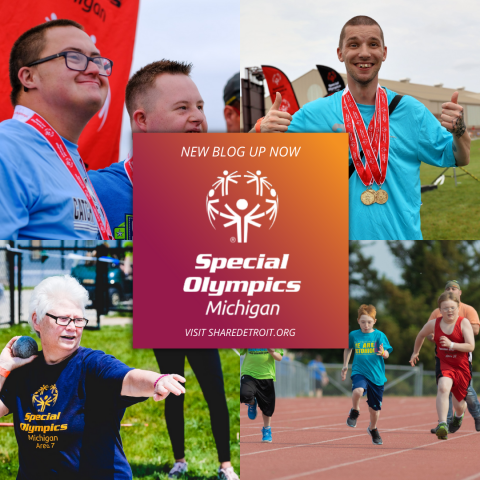 As we celebrate the patriotic experience of the Summer Olympic Games, our team at SHARE Detroit found it fitting to highlight the wonderful work of the Special Olympics Michigan.  We are proud to have this nonprofit on our platform and are inspired by their reputation and commitment to provide year-round sports training and athletic competition to children and adults with intellectual disabilities.   

The first Special Olympics Games in Michigan dates back to the summer of 1969 at Western Michigan University.  In the 1970's, the presence of the Special Olympics of Michigan grew when they hosted the 4th International Summer Special Olympic Games in Mount Pleasant in 1974 and then sent 90 athletes with 22 coaches to the 5th International Summer Special Olympics in Brockport, New York four years later.  

The SOMI rich history over the next forty years included attendance at the Winter Games in 1989 hosted by Eunice Kennedy Shriver, founder of the Special Olympics.  In 2008, SOMI started the Unified Champion Schools program, an initiative that promotes school sponsored activities to promote social inclusion of students with intellectual disabilities.  

Following the 50th anniversary of SOMI in 2018, planning began to create the world's largest Special Olympics facility in Grand Rapids, MI transforming the property for statewide access and training.  This project is supported by the multi-million dollar "Building Tomorrow's Champions Campaign."  

The impact of SOMI is very broad: they offer 24 different sports programs year-round to 23,000 athletes thanks to strong support from over 32,000 community volunteers and donors.  These sports programs are a wonderful opportunity for athletes to deepen friendships with other athletes, coaches, volunteers and fans.  As an organization with a focus on inclusion, the SOMI sports programs are an ideal setting to bring people together while including a population that is often marginalized.  

In addition to its current capital campaign, SOMI is hard at work preparing to host the Special Olympics Unified Cup next summer, 2022 right here in Detroit! They are anticipating up to 600 athletes from Unified partners in 30 countries around the world! Share Detroit is excited to help SOMI with next summer's Special Olympic Games by promoting volunteer and event opportunities for the Share community to support.  

To learn more about ways you can contribute to the growth of Special Olympics Michigan, visit their page on SHARE Detroit.