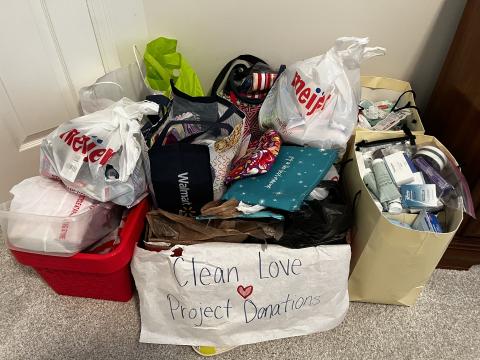 Recently, one of our nonprofit partners,
The Clean Love Project
, received a write up in
The News-Herald
about the fantastic volunteer work the National Honor Society at Trenton High School has been doing with TCLP. The THS NHS has been collecting items such as tampons, deodorant, toothpaste, and hand sanitizer to donate to TCLP to support their ability to provide impoverished women and girls with hygiene kits.
Lacey Catarino, the executive director of TCLP, explained that the connection between TCLP and THS's NHS came about because a recent graduate of THS, Kara Howey, began collecting items for donation to TCLP during the pandemic. Kara's actions inspired Ava Carson, the current co-president of Trenton's NHS, to continue that important work. Ava stated, "It's important to help local organizations because they make a direct impact on our local community. By partnering with TCLP, I know we will be helping women in local areas by providing them with essentials that many of us take for granted in our daily life."
When asked about the importance of intercommunity building, Catarino stated, "Groups like the NHS make a huge impact on the community by volunteering their time to help others. Our volunteers come together to collect essential hygiene products, and assemble Clean Love Kits with these products to be distributed to women and young girls in need. Our mission is to help as many women as possible feel clean, loved, and empowered. Trenton High School's NHS group is doing just that."
We want to use this story to encourage further connection between the youth of our communities and local nonprofit organizations. The generosity and drive of one person like Kara has a ripple effect on the decisions of the people around them and contributes to an overall more supportive and supported community.
With winter, holidays, and Giving Tuesday just around the corner, many of our partners here at SHARE Detroit are updating their
wish-lists
and holding
new volunteer opportunities
. You can use
our directory
to find your next profit to support and make your own donation drive just like Trenton High School's NHS has done! 
About SHARE Detroit 
SHARE Detroit is a community initiative with opportunities to do good across the tri-county area. A robust online platform makes giving easy by connecting generous people to the greatest needs in the community. ShareDetroit.org offers local nonprofits a chance to be seen and heard, regardless of cause or size, and work together. Learn more at sharedetroit.org.