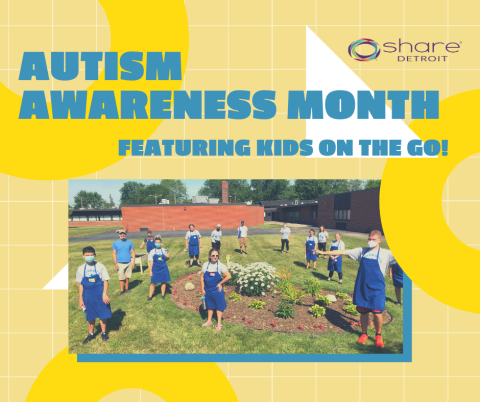 WELCOME TO THE SHARE DETROIT BLOG!
We will use this space to highlight the amazing work our partner nonprofits do in the Detroit metro area each day to support our community, and we will provide insights into why joining, donating and volunteering with our partner nonprofits from Share Detroit's platform will allow everyone to 'do good' in our community. Share Detroit is a 501c3 whose mission is to support and expand the reach of hundreds of SE Michigan based nonprofits that who are doing such important work each and every day.
This week we are highlighting
Kids on the Go
, based in St. Clair Shores. KOTG provides fun activities and services to children with special needs at no cost to their parents. Learn more about their important work on their website
https://www.kidsonthegocamp.com/
and below.
How are you hoping SHARE Detroit will benefit your organization?
Our team at Kids On The Go is very excited to join the SHARE Detroit platform and be featured alongside many other wonderful organizations serving our local communities here in Southeast Michigan. We hope to make some new friends with those who would like to learn more about our mission. SHARE Detroit offers us the opportunity to share the variety of ways one can support our efforts and make an impact in the lives of the children we serve.
What is the biggest draw donors have to your organization?
Kids On The Go is unique in that the services our organization offers children with special needs are completely free of charge. This is significant considering the type of therapy that is provided can cost families in the Detroit area an upward of
$115 for a mere 15 minute session
and is often not covered by insurance. This cost is prohibitive for most and consequently leads to learning loss over the summer months when school sponsored programs are not in session. As one parent stated,
"My son has been involved with Kids on the Go for 12 years. All of us have watched him grow and change. He has always needed purpose to overcome his learning difficulties. "Teens to Work" gives him this. He is a hands on guy. The staff really cares and provides the step by step instruction necessary for him to be successful. The projects build his confidence and independence. The group of teens provides the peer to peer interaction and friendships he misses in his everyday environment. He enjoys preparing for his future and is thankful for the "Teens to Work" program."
Our generous donors at Kids On The Go are assured that their gift, regardless of the size, will truly make an impact in the life of a child and help open a door for an opportunity that otherwise may not be available to them.
Share an accomplishment your organization has had in 2021.
When the closures and elimination of school sponsored programs began in March 2020, many of our families turned to us to help fill the void for therapy and provide structure to keep their child's educational and physical goals on track. We feel very lucky to have been recognized as a trusted resource for families during these challenging times. We are thankful to our generous donors and instructors for supporting our mission and the children we serve in a time of greatest need.
With a hopeful outlook in 2021, we are optimistic that our families and donors will continue to support us as we build a culture of growth, serving as a beacon and guide for children with special needs for many years to come.
What is a benefit to having an organization housed in / serving the Detroit community?
At Kids On The Go, we have benefited from securing partnerships with local organizations and venues to provide and enhance our existing programs. Children with special needs shouldn't be kept from extra curricular activities that are easily accessible to neurotypical children. We look to outside resources to help ensure that opportunities are available for all those who seek them.
Some of the outside resources we are very lucky to have are instructors and friends of KOTG who have overcome challenges themselves and want to share their successes to empower other individuals. For instance, we are grateful to have the support of Anthony Ianni, the first known athlete with autism to play Big 10 Basketball. As a graduate of Michigan State University, Ianni shares with KOTG his talent for basketball by running the "All Star Hoops" program as he incorporates motivating lessons of acceptance and anti-bullying with those he engages with.
At Kids On The Go, we believe this overall willingness and enthusiasm to explore joint ventures and sincere interest in working together for the good of our respective missions and greater good for those we serve is unique to Detroit and the surrounding communities. This unique attitude of collaboration is something we do not take for granted and believe it truly makes all of us better.
To support Kids on the Go and more than 100 other nonprofit organizations in metro Detroit, visit Share Detroit at
www.sharedetroit.org
.
About SHARE Detroit
Share Detroit is a community initiative with opportunities to do good across the metro Detroit area. A robust online platform makes giving easy by connecting generous people to the greatest needs in the community. Share Detroit offers local nonprofits a chance to be seen and heard, regardless of cause or size and work together. Learn more at
sharedetroit.org
.