Stories
Some call it stories. Others call it a blog. But here you will find nuggets of goodness to use and -- you guessed it -- SHARE!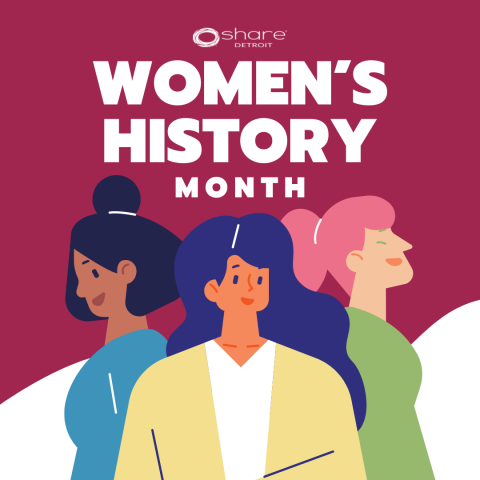 "From the first settlers who came to our shores, from the first American Indian families who befriended them, men and women have worked together to build this nation. Too often the women were unsung and sometimes their contributions went unnoticed. But the achievements, leadership, courage, strength and love of the women who built America was as vital as that of the men whose names we know so well." - Jimmy Carter in his recognition of National Women's History Week
March is Women's History Month. Women's History Month was first celebrated as Women's History Week in 1978. Women's History Week was, in turn, an expansion of March 8th's International Women's Day. The first International Women's Day in the United States was celebrated on February 28th by the Socialist Party of America in honor of the women who protested during the 1908 garment workers' strike in New York. Many early celebrations worldwide were part of the ongoing struggle for women's suffrage or as a protest for peace during World War I. With the global feminist movement, women as a class have made great strides toward equality, but still today, just like the primarily immigrant Jewish women garment workers rose up against unfair working conditions in 1908 New York, women garment workers in countries like Bangladesh are still pushing for recognition and fair compensation. Therefore, Women's History Month is a time to celebrate the accomplishments of women just as much as it is a time to support women striving for more equitable treatment, as the history of the month itself points us towards.
To do our part in supporting women in our community, we here at SHARE Detroit want to spotlight the organizations community members themselves may want to support this month. These include A Beautiful Me, Inc., The IMAGINE Mentoring Program, Loving Our Girls, One Girl Revolution, Women of Banglatown, and Hope Care and Beyond Human Care.
The IMAGINE Mentoring Program and Loving Our Girls both use mentorship to help improve the lives of young girls. A Beautiful Me also deals in empowerment through educational programs. One Girl Revolution is an organization that uses social media to share inspiring stories of "everyday women who are changing the world through their lives" while Women of Banglatown provides a welcoming and culturally sensitive space for women and girls from the Banglatown neighborhood to connect. Finally, Hope Care and Beyond provides support and guidance for immigrant and refugee women acclimating to our community.
We hope that you will take the time to support these organizations by attending an event, volunteering time, donating money, or shopping their wish-lists! If you are still in search of a nonprofit to support, please check out our directory here.
About SHARE Detroit 
SHARE Detroit is a community initiative with opportunities to do good across the tri-county area. A robust online platform makes giving easy by connecting generous people to the greatest needs in the community. SHAREDetroit.org offers local nonprofits a chance to be seen and heard, regardless of cause or size, and work together. Learn more at sharedetroit.org.