Stories
Some call it stories. Others call it a blog. But here you will find nuggets of goodness to use and -- you guessed it -- SHARE!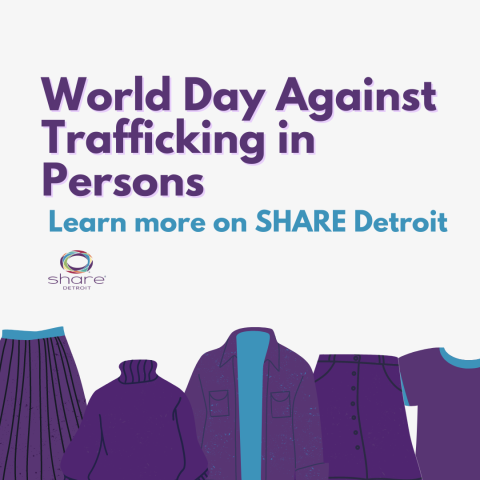 "That's the point I really want to drive home about sex trafficking. The most important part to saving victims is realizing how many different ways we could have done something before as anything as horrific as to what happened to me happens to me someone else."
– Jose Alfaro, survivor of sex trafficking, quoted in The Polaris Project
In 2013, the United Nations declared July 30th the World Day Against Trafficking in Persons in order to raise awareness of the issue and reaffirm the responsibility each state has to prevent trafficking and support victims. Human trafficking refers to the forced or coerced movement of peoples for the purpose of exploitation, usually in the form of labor or sex. Anyone can fall victim to trafficking, but according to the UN, 65% of victims are women and girls and 35% are men and boys. Children make up 1/3 of all trafficking victims. Human trafficking is a global issue. According to the U.S. Department of State, there are 24.9 million victims of forced labor worldwide. The American Civil Liberties Union reports "that 14,500 to 17,500 people are trafficked into the United States each year," but due to the secretive nature of trafficking, "these numbers do not include the many individuals trafficked within U.S. borders." The population most vulnerable to trafficking in the U.S. are immigrant women. Traffickers rely on physical and psychological abuse to reach their victims.
SHARE Detroit partners with a number of nonprofit organizations that work to prevent trafficking and support its survivors, so in commemoration with the UN declaration, we want to highlight those nonprofits today so our community can recognize our role in putting an end to trafficking. The organizations we are partnered with include, Hope Against Trafficking, Sanctum House, Elli's House, My Safe Haven, and Sparrow Freedom Project.
We hope that you will take the time to support these organizations by attending an event, volunteering time, donating money, or shopping their wish-lists! If you are still in search of a nonprofit to support, please check out our directory here.
About SHARE Detroit 
SHARE Detroit is a community initiative with opportunities to do good across the tri-county area. A robust online platform makes giving easy by connecting generous people to the greatest needs in the community. ShareDetroit.org offers local nonprofits a chance to be seen and heard, regardless of cause or size and work together. Learn more at ShareDetroit.org